A Letter from Deborah Maragopoulous, FNP

Getting to the root of disease is crucial to helping my patients thrive. On the surface, the roots are biochemical. However, when we dive deeper, the psychological roots can also be uncovered. But the core issues are often spiritual. That's why I created an integrated healthcare practice where I guide my patients to reach their greatest potential by creating Joyous Transformations—body, mind, and soul.
I decided early on in my medical training that I wanted to move away from seeing disease through the eyes of pathophysiology, and instead, chose to learn through the eyes of optimal wellness.
As an Intuitive Integrative Nurse Practitioner, I bridge together the science of medicine with the art of healing. For the past 30 years, I've focused exclusively on neuro-immune-endocrinology. I truly believe disease is the reflection of how the soul speaks symbolically through the body. Through my extensive research and client work, I've discovered the root cause of disease is the hypothalamus – a small part of the brain that's responsible for orchestrating the body's symphony of hormones.
Known as the Hormone Queen®, I've made it my mission to help everyone—no matter their age—balance their hormones, and live the energy and joy their DNA and true destiny desires.
May Your Hormones Be In Harmony,
-Deborah Maragopoulos FNP
Intuitive Integrative Nurse Practitioner
Deborah graduated from UCLA with a Masters in Nursing then went on to study nutritional science, functional medicine, quantum physics, genetics, neuro-immune-endocrinology, and metaphysical healing.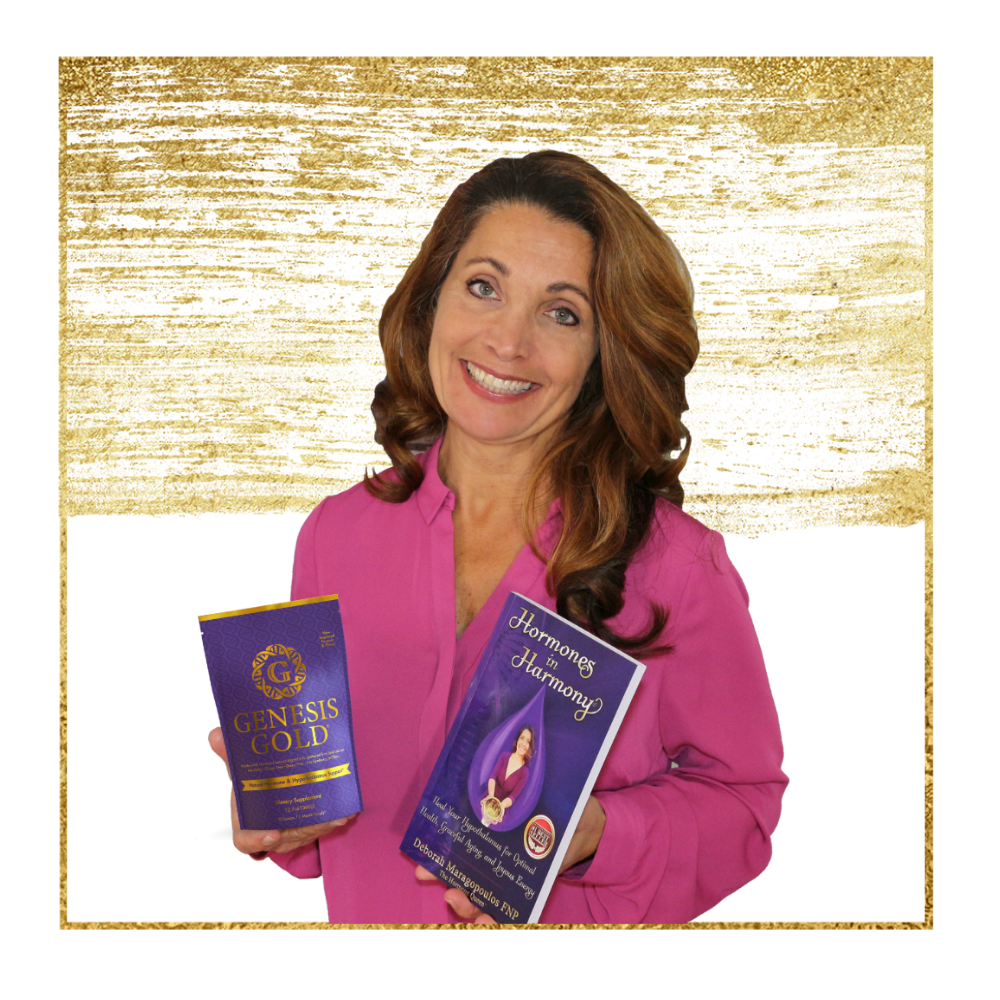 After working in a variety of traditional clinical settings for 10 years, she opened a solo private practice where she specializes in natural therapies. Through her extensive clinical research and two decades of collecting empirical data, Deborah developed a unique holistic health care model that blends naturopathic and allopathic therapies.
She also created a successful nutraceutical product called Genesis Gold®. This groundbreaking, holistic nutritional supplement, combined with her knowledge of natural healing therapies, has garnered Deborah widespread acclaim.
Deborah is the Founder of Full Circle Family Health, Genesis Health Products, Inc and Divine Daughters Unite. She serves as clinical endocrine advisor to Genova Laboratory and Sansum Medical Clinic, and she is also the past president of the California Association of Nurse Practitioners.
Author of the book, Hormones in Harmony®, and much-sought-after speaker, Deborah has given presentations at numerous professional and public events. Her list of speaking credits includes, the California Women's Expo, the Southern California Women's Herbal Symposium, Samuel Merritt College, and the American College of Nurse Practitioners.
Helping the Hormonally Challenged
Being a woman entering the thrills of the perimenopausal rollercoaster does not make me an expert. It does make me genuinely empathetic with the Hormonally Challenged.
Being a neuro-immune-endocrine specialist for the past twenty years…well, that contributes to my expertise regarding hormones.
Yet as I receive more and more Hormonally Challenged patients into my holistic health care practice, my expertise becomes more and more refined. Like good wine, it takes years to reach the peak flavor of healing.
In 1997, I broke away from a conventional medical setting to begin an Intuitive Integrative Medicine practice. Full Circle Family Health is where I blend the Art of Healing with the Science of Medicine.
My specialty of natural hormones grew to encompass the gamut of endocrine disorders—diabetes, thyroid disease, adrenal deficiency, growth hormone deficiency, low metabolism, insomnia, fatigue, infertility, andropause, PMS, and anti-aging therapeutics. Still the majority of my patients were women going through the change of life.
One day I got a call from a local gynecological surgeon. "Deborah, I'm sending you all my weird hormone patients."
I thanked him and asked what was so "weird" about them.
"Well, in medical school," he answered, "you learn that A leads to B and occasionally C, but I get to Z and still can't figure out these weird hormone cases."
"That's because, Dr G," I explained, "endocrinology is not an exact science. It's an art."
"I'm a surgeon" he sighed. "you're the artist, you can take care of them."
That's when I came up with the term—Hormonally Challenged. Health care providers are as challenged by hormonal issues as their patients.
Although conscious of being able to perceive things beyond my senses, I suppressed my gifts and pursued a scientific education to justify my "knowing." Yet with the birth of my first baby, I could no longer deny my intuition.
Born Hormonally Challenged, my newborn stumped medical experts who advised a course of treatment that didn't feel right. So I followed my intuition, against medical advice, and ushered my son through the maze of health care. My intuition proved correct. Scientific studies have since supported my decision.
In the midst of supporting my son through multiple corrective surgeries, I dreamt it was time to conceive my daughter. She was born full term, healthy, and very much connected. Consciously parenting bright, gifted children has been challenging, yet greatly rewarding.
When my son was later diagnosed with attention deficit disorder, I sought natural means to help him. And the universe gave me lots of opportunity to practice. Parents came from near and far with their developmentally delayed children to seek my care.
Intuitively, I felt that these children's brains needed nourishment. Their parents willingly mixed the "brew" I prescribed because it worked, but they begged me to formulate a nutritional supplement to make it easier.
So I began intense research to find what I could feed the hypothalamus and harmonize the symphony of hormones, so the dance of the DNA can express health and vitality.
I believe healing is innate. If given the right ingredients, the body can heal itself. Searching for a nutritional support between genetics and the biochemical messengers of the neuro-immune-endocrine system, I was stymied until my son suggested I ask to be shown what to make. The answer came in a dream.
I was standing before the Tree of Life, holding a golden chalice. My most Hormonally Challenged patients came to drink from the chalice and were healed. I awoke asking what was in the cup. The first answer came as seven Aramaic letters! Amazingly they translated into the same single letter denotations used for the seven amino acids I had been studying related to the hypothalamus.
For three months, I dreamt the same dream, awakening every morning with more ingredients for a special formula—nutritionally dense super foods to provide foundational support, herbs to support individual endocrine glands, the immune system and the brain, botanicals to enhance digestion and detoxification, and special amino acids to balance the hypothalamus— everything the body needs to optimize genetic potential.